Majestic Machine-Feed Envelopes
To attain optimum efficiency and clarity control, the machine feed envelopes are used to give bigger production volume and sharp image resonance. While printing full colour envelopes, a superior quality blend is achieved through this method.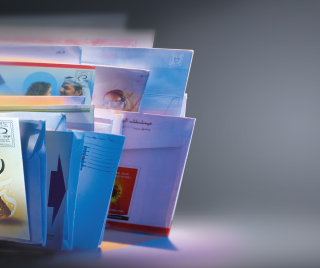 Commercial, V-Flap
Envelopes Commercial & V-Flap Envelopes are commonly used for casual and official communications. They are versatile in quality, purpose oriented and carry a strong outlook. They are available in a variety of substrates. Be it a plain white envelope or window envelope "You name it, we have it". All the standard sizes are very much available.
Window Envelopes save on addressing:
The clear advantage of a window envelope is that a correctly folded enclosure will allow the addressee's name & address to show through, eliminating the need to print or label the face of the envelope.
Fully machine-enabled technique used to enhance quality output.
Used extensively by law firms and legal departments.
Specially customized C4 window envelopes helps customers to insert and process the documents fully machine fed.
Weight 90gsm to 120gsm.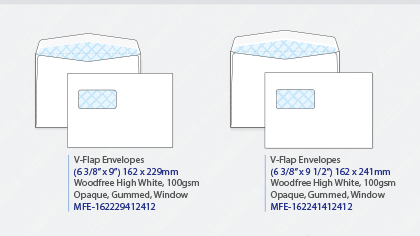 Types of Envelops