Well-worth White Envelopes
White envelopes are commonly used for casual and business communications. They are versatile in quality, multi purpose oriented and carry a strong outlook standard or custom made, white envelopes are an integral part in day to day business life.
Pocket Envelopes An envelope conveys messages official or personal. They emphasize the business ethics of a company, carry its thoughts, perspectives and even the future. With the use of selected graphics, envelopes can enhance, reveal and reemphasize the important aspects of the enclosed message. Our broad range of "Pocket Envelopes" are available in different shades and sizes. They have excellent quality and comprehensive outlook to meet the customer demands. Easy to handle, broader space for address. High quality & cost-effective product. Tuck flap and peel and Seal closures. Weights from 90gsm to 100gsm.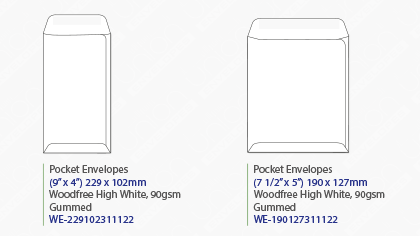 Types of Envelops